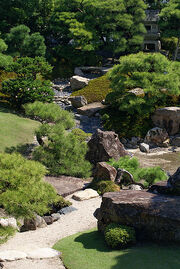 Zen Park is a zen garden inspired public park in Hightech Valley, Sofasi located righ across from the Sofasi Zen Buddhist Temple on 11 glider avenue. The park was created to celebrate the Zen buddhist traditions, by members of the temple. It was designed by Floyd Rahmsbottom.
The park is great for meditation, it is a good way to escape the hectic daily life. The Zen Park consist of a system of paths leading visitors through small green areas and rocky terrains. In the middle of the park there is a 30 metre high statue of Buddha.
Ad blocker interference detected!
Wikia is a free-to-use site that makes money from advertising. We have a modified experience for viewers using ad blockers

Wikia is not accessible if you've made further modifications. Remove the custom ad blocker rule(s) and the page will load as expected.