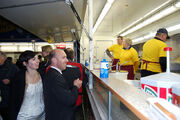 The Zaeletènt is an international chain of French fries booths, founded by Bart Koenen, with one booth in Lovia and two in Mäöres.
Menu and prices
Edit
French Fries

Small ($0,70)
Medium ($1,-)
Large ($1,25)
Special (+ $0,40)
Snacks

Bamiblock ($1,45)
Frikandel ($0,85)
Hamburger ($1,05)
Lumpia ($1,15)
Nasidisc ($1,20)
Portion bitterballs ($0,50)
Pig ribs ($1,10)
Viandel ($1,-)
Pizza

Small ($1,60)
Medium ($2,20)
Large ($3,10)
Extras

Ketchup ($0,15)
Curry ($0,15)
Mayonaise ($0,10)
Piccalilly ($0,25)
Salad ($0,50)
Saté sauce ($0,50)
Quick service and good prices. But, ketchup and mayo are charged for, which is ridiculous.
-Guide Cinq Etoiles
Customers
Edit
Contact details
Edit
We are to be found at the 18 Oceana Side-street, Drake Town, Hurbanova, Oceana in Lovia and on the Ekkerstraot 1 in the Centrum van Saenteim and the Kloeasterstraote 9 in Gäörne in Mäöres. You can also visit our web site www.zaeletent.mao.
Ad blocker interference detected!
Wikia is a free-to-use site that makes money from advertising. We have a modified experience for viewers using ad blockers

Wikia is not accessible if you've made further modifications. Remove the custom ad blocker rule(s) and the page will load as expected.