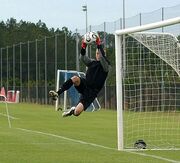 William Durham (born 1978) is a Lovian soccer coach and player and the current coach of the Oaks of Kinley.
He is well known because, unlike most coaches, he also plays for his team, in the role of goalkeeper. Although he is fairly old (33), he is acknowledged as one of the best Lovian players.
He currently lives in Kinley.
This article is a stub: a short article with a useful amount of information, but that should definitely be expanded.
You can help Wikination by expanding it.
Ad blocker interference detected!
Wikia is a free-to-use site that makes money from advertising. We have a modified experience for viewers using ad blockers

Wikia is not accessible if you've made further modifications. Remove the custom ad blocker rule(s) and the page will load as expected.