| | http://www.totalfootball.lo |
| --- | --- |


TRANSFERS | Henri Barras returns to Caltrava and Lovia.



LATEST FOOTBALL TRANSFERS
Lovian international Baptiste Niyonzima joined FC Drenthe, as his club Brezonde was relegated to the Second League. Brunanter star Felix Brunner could potentially leave St. Marks Koningstad this summer, with a number of teams interested in signing the veteran forward.
INTERVIEW WITH BRUNANT COACH BERGHER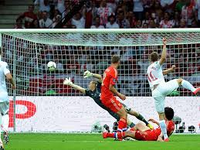 Total football sat down with Brunant coach Willem Bergher and asked him on the team's close loss and elimination by Paraguay, plans for the bronze match and the team's campaign.
After the loss to Paraguay, is bronze attainable
Yes, certainly. El-Zein will play for sure, his presence will, how do you say, "stookt" the team forward. Jamaica will be a solid opponent, especially since they made it to the top six countries in the World Cup qualification, but even without Felix [Brunner] we can still win. We have many attacking players and Brunant certainly can do it.
As a spark to the team, do you think El-Zein could have made a difference in the semifinal?
Of course, his speed and direction could potentially have done a difference to the match, but Ibra complained about an ache in the knees and I did not want to risk a serious injury. Paraguay had most of the posession and he would have been perfect to counter-attack.
Do you think Brunant has done well in this campaign?
Yes, the last tournament the team made it only to the quarter finals and now we can win a medal for third place. The last years have been a transition to more youth players, especilly in the defense, with Lecaros Lerner, Marshall and young attackers like Nabil. In the last 22 years Brunant only had two medals in the WFC, so this is an excellent result. In 2016 more youths will have come and matured and then we certainly can win the tournament.
LOVIA STUMBLES IN QUARTERS
Lovia's national team was unable to overcome the hurdle that is Brunant, losing to Brunant 3-1. While Henri Barras canceled out an early El-Zein opener, Brunant captain Jostens scored before half time to take the lead. Key forward Felix Brunner was injured after a Summerburn tackle and was replaced by youngster Emad Nabil, who scored a late goal in his first international to end the match 3-1.
LOVIA THROUGH TO NEXT ROUND OF WFC
Lovia managed a 2-0 win over Cettatie to secure progression to the next round, where they will face Brunant on May 23rd. Niyonzima and Fuster both scored in this significant win. Favorites Paraguay finished their group with 10 goals for and two against, and are widely expected to win the tournament. They face off against Strasland on May 23rd. Other wikinations in the quarter-finals include Inselöarna and Kemburg.
WFC TOURNAMENT KICKS OFF
The World Football Championship kicked off on Saturday with hosts Qatar taking on Brunant. The game was fairly even between both chances with an equal amount of possession, Brunant was able to tire out the hosts and a lone goal by captain Gerard Jostens proved enough to take home the win. Sunday, Kemburg and Southern Arc Islands met, the first all-wikination clash. Both teams fought hard and scored, though ultimately Kemburg scored a second to take a win. Lovia will play their first match on 13 May at 10:00 Pacific (20:00 Qatar) versus Jamaica.
WFC SQUADS NAMED AHEAD OF TOURNAMENT
The squads for the WFC teams have been named, and Lovia's 18 men have been selected by manager James Masters. Most players are Lovian-based, though some like Leo Fuster, Timothy Mika and Henri Barras have been playing abroad for some time. Brunant's 18 players have already been decided, with stars like El-Zein, Brunner and Elteman among the big names. Libertas has been the surprise of the tournament, as they have played with reserve players and will use those for the finals.
ST. MARKS WINS LEADERS LEAGUE
St. Marks Koningstad edged Kemburg City on penalties to take home a record 4th Leaders League title. While St. Marks dominated posession, Kemburg City was able to attack well on the counter and managed the first goal. St. Marks equalized through Jefferson Cabral early in the second half. The game went to extra time and then penalties, won 1-3 by St. Marks with a commanding performance by goalkeeper van der Bruggen.
LATEST FOOTBALL TRANSFERS

Henri Barras, Lovia's star forward, is set to make his return to FC Caltrava this summer. The player moved to Libertan side Skeend in 2011, as the first major Lovian playing abroad. Barras had not been able to secure many appearances for the club and struggled with consistency and form. The player is returning to Lovia for an undisclosed sum.
Former Lovian starlet Leo Fuster is set to return to Lovia as well. The 22-year-old has not seen much regular play since 2011 and is joining FC Skeend of Libertas, though he will come to Newhaven Impact on a season loan.
Ad blocker interference detected!
Wikia is a free-to-use site that makes money from advertising. We have a modified experience for viewers using ad blockers

Wikia is not accessible if you've made further modifications. Remove the custom ad blocker rule(s) and the page will load as expected.