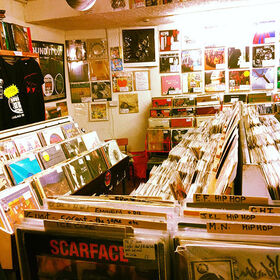 Warped Vinyl is a record store situated in The Mall, Noble City, at 11 Innovation Street. The store is owned by record label Warped Records. It deals exclusively in vinyl. The store sells copies from the entire back catalogue of Warped Records as well as many foreign releases and releases from Velvet Records, Jangle Records, Empire Zeitgeist, Label Records and Red Horse Records.
Warped Vinyl is a cosy store with two floors and lots of special releases. Both DJs, vinyl collectors and casual music fans can find their record of choice in the shop. The walls of the store are filled with music posters and mounted vinyl. Next to the counter is a set-up with four Technics turntables for listening to records. Under the regular crates of vinyl other crates can be found with cheap second-hand vinyl, ranging from 1 Lovian dollar to 5 Lovian dollar. 
Warped Vinyl was founded in 1985 and given the uninspired name Noble City Records Store. It was bought in 1994 by Warped Records, a huge gamble at that time, given the unstable vinyl market.
Exclusive releases
Edit
Ad blocker interference detected!
Wikia is a free-to-use site that makes money from advertising. We have a modified experience for viewers using ad blockers

Wikia is not accessible if you've made further modifications. Remove the custom ad blocker rule(s) and the page will load as expected.