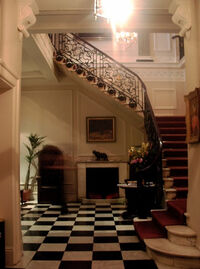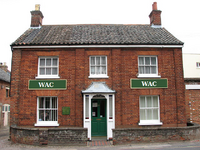 The Waltz Appreciation Club of Lovia is a Lovian private lifestyle and debating club, based in New Town, Noble City. This members-only club was founded on December 4th, 1947, by the English Edward Stanley, 17th Earl of Derby and the Lovian former merchant Roger Henry Lehman. The Waltz Appreciation Club organizes monthly ballroom and waltz dancing nights at their club residence in New Town.
The club is loosely associated with the freemasonry movement, as some former members were freemasons, and brought along some traditions into the Waltz Appreciation Club. This club however has no common religious stance and does not use any symbols or mystic rituals.
Membership
Edit
Membership has no restrictions, but one: in order to obtain membership one has to be invited by an already member of the club.
Well-known members
Edit
Membership is regarded as a private issue, and the club itself doesn't provide information on its members. Some members however have chosen to publicize their membership of the Waltz Appreciation Club. Over time, the most important of these people were:
In popular culture
Edit
The Lovian satire magazine Real News Weekly mocked the Waltz Appreciation Club as both a cover-up for an alien story and as an organization "to kill us all".
See also
Edit
Ad blocker interference detected!
Wikia is a free-to-use site that makes money from advertising. We have a modified experience for viewers using ad blockers

Wikia is not accessible if you've made further modifications. Remove the custom ad blocker rule(s) and the page will load as expected.