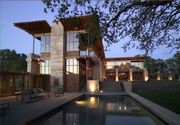 Vineyard Villa (also known as 4 Southern Avenue Vineyard Villa) was a luxury home custom built as residence for the young millionaire Christopher Costello. Its namesake had been derived from the fact that it was located besides vineyards, olive gardens, and plentiful natural forests located behind the home. Contrary to popular belief, however, the gardens themselves are actually not at all within the villa's property radius, and are privately owned and maintained by a separate entity.
In October of 2011, during the Lovian Civil War, the home was raided and burnt to its foundation by zealous rioters. The month following the end of the Civil War, Costello would have the remainder of the house removed so that he could construct another home in its place. The new house was significantly smaller, but in August, Costello changed his residence to the newly-constructed Costello Tower.
Property description
Edit
The property was roughly rectangular, with trees lining the property border, creating the illusion that the villa was actually located within part of the nearby woods. The home was constructed primarily of delicately-sanded stone bricks. A long, ornamented stone walkway lead directly to the elegant circular front door. Veering to one's left from here would have lead to a large, illuminated pool and jacuzzi, beside a wide-open area designed with poolside parties in mind. In back of this, a narrow, glass-rimmed, dim-lit corridor stretched from the pool to the house, and over to the small indoor pool opposite the house. The central strip in the main hallways on the base and upper levels featured narrow shallow koi ponds with bamboo stalks that rooted beneath the submerged pebbles. A large, glass walkway protruded from the top floor, jutting directly out over the main entrance.
Indoors, the house featured an alluring, wide living room, featuring an alluring stone fireplace. The first floor featured the main room, a kitchen and dinning room with elongated bar table, to the far right a game room, and a wide main bathroom. Upstairs, one would have found a large master bedroom with another, small fireplace and a private bathroom. The top floor also features three other bedrooms, perfect for a guest of family. The house also featured an attic and triple-roomed basement, with another bedroom and private bathroom.
Ad blocker interference detected!
Wikia is a free-to-use site that makes money from advertising. We have a modified experience for viewers using ad blockers

Wikia is not accessible if you've made further modifications. Remove the custom ad blocker rule(s) and the page will load as expected.