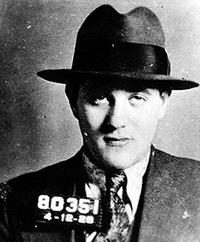 Vincenzo "Vince" Marcellis (August 1, 1877-July 6, 1939) was a Lovian mob boss and head of the Marcellis Crime family. He was born in Catania, Italy and came to Lovia in the early 1910s. By 1920, he had set up liquor operations, which was illegally sold to Canada and the United States during prohibition there. His business was soon one of the largest enterprises and he became (arguably) the richest Lovian. He was briefly arrested in 1928, and after his release had his jailers killed. In 1934 Marcellis was arrested for domestic abuse, and soon the police tacked on charges of theft, extortion, murder, tax evasion and violation of the Temperance Act. Marcellis was jailed in 1935 for 20 years, but he died in 1939 of liver problems.
Ad blocker interference detected!
Wikia is a free-to-use site that makes money from advertising. We have a modified experience for viewers using ad blockers

Wikia is not accessible if you've made further modifications. Remove the custom ad blocker rule(s) and the page will load as expected.