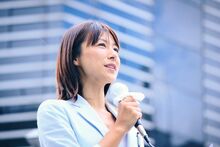 Victoria Chan is an activist, author, community organizer, and current leader of the Communist Party of Lovia (neo-marxist). She was born on July 19th, 1970 in Kinley, Seven to middle-class immigrant parents. She was elected leader of the CPL.nm on July 1, 2015, and is generally identified as an eco-socialist and uncompromising anti-capitalist.
Chan grew up in a middle-class neighborhood in Kinley to Chao and An Chan. Rather than give Victoria a traditional Chinese name, due to Lovianization policies, they named her Victoria. She attended Noble University and received a doctorate in Sociology and Anthropology. She married her husband Daniel Abernathy in 1999.
Chan received the chance to teach at Noble University in 2002 but denied the chance in order to create a charity called Safe Seven which delivered healthcare and services to those in low income areas. She headed this charity until 2009. She then passed the Charity onto her husband who still leads it today. In 2010 she accepted a professorship at Blackburn University teaching Anthropology and in 2011 began to teach Sociology. She ran for Congress that year as well with the CPL.nm, her long time socialist beliefs and Marxist Anthropological tenants. She lost in 2011 and again in 2012. She published her first book in 2012 You: The Communitarian Socialist which created an outline for blending Communitarianism and Socialism. A year later she help establish a Lovian Labour Center in Seven and began several protests in Oceana and Seven to end environmental destruction. Her "Earth Events" steadily brought about 200 people to protest several large corporations due to their anti-environmental actions. She then stated the need for eco-socialism as a main viewpoint in the CPL.nm. She tried again running for office in the 2014 revival for the Seven State Council, but lost. She was elected leader of the CPL.nm in 2015.
Ad blocker interference detected!
Wikia is a free-to-use site that makes money from advertising. We have a modified experience for viewers using ad blockers

Wikia is not accessible if you've made further modifications. Remove the custom ad blocker rule(s) and the page will load as expected.