This page or article section is under construction.

You are welcome to assist in its construction by editing it. You may want to discuss on the talk page before making major edits.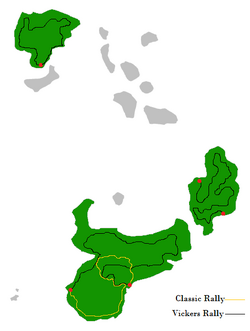 The Vickers Sprint Rally is a historic Lovian rally race. Originally known as the Lovian Sprint Rally, it aquired the Vickers in the name as Vickers Cigarette has been its main sponsor since 1960.
The Rally was originally started in 1959. It was an amateur race, in which most of the drivers were mechanics who were paid very little. In 1963 there were several accidents which shut down the race. It was reinstated in 1973 and has been held on and off from 1973-78, 1984-1997 and since 2002.
The modern race
Edit
The modern race is held in three stages. The first stage is the Peace Island Rally; drivers set out from Hurbanova and end the race in Noble City. This is the easiest stage, though the part through the Emerald Highlands is said to be very tough. Cars are then transported to Portland to begin the second stage of the race in Kings. This is the hardest part of the rally, given the gruelling conditions of having to go through the Abby Highlands. Marauder's Pass, the highest road in Lovia (2652 ft high) is used in the race (Princess Natalie of Lovia died near here in a 1953 Alfa Romeo and Brunanter celebrity Anna Lindbergs nearly died here in a 1954 Benz). After conquering the highlands, the stage ends in Newhaven. There, the cars are sent to Asian Island for the final stage; a circuit race starting and ending in Sofasi, making use of the island's many winding roads.
Classic rally
Edit
Since 1998, a Classic rally has been held annually. This race starts in Noble City and ends in Hurbanova, but is mostly in Oceana. Presently all cars older than 1985 are allowed to participate.
Ad blocker interference detected!
Wikia is a free-to-use site that makes money from advertising. We have a modified experience for viewers using ad blockers

Wikia is not accessible if you've made further modifications. Remove the custom ad blocker rule(s) and the page will load as expected.