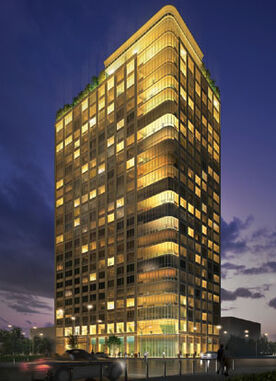 The Vandreck Building is a mixed-use building in Mandarin Village, Noble City. Construction began in 2005, and finished in 2010. It has 12 floors for office use, and 13 floors for apartments. The building is named after Jan Vandreck, the building's designer, of Dutch/German descent. This 25-story building is currently the tallest building in Lovia, since the Hotel North was demolished.
Ad blocker interference detected!
Wikia is a free-to-use site that makes money from advertising. We have a modified experience for viewers using ad blockers

Wikia is not accessible if you've made further modifications. Remove the custom ad blocker rule(s) and the page will load as expected.