The United Protestant Church, abbreviated UPC, is a Lovian mainline Protestant Christian church association and the largest religious body in Lovia. The UPC unites Methodists, Baptists, Presbyterians, Episcopalians, non-denominational Protestants and some Lutherans and Calvinist. The UPC was formed in September 2009, after a merger of five church bodies: the Lovian Methodist Association, the Presbyterian Church in Lovia, the Episcopal Church (Lovia), the Church Union of Lovian Baptists and the Reformed Church of Noble City. In January 2010, the ecumenical Church of Unity joined.
Due to the church's small size it does not have a carefully defined structure, but is led by the Dean Henry John Ludd, who is given the title Very Reverend. This is a tradition inherited from the Episcopal Church.
Parishes
Edit
This page or article section is under construction.

You are welcome to assist in its construction by editing it. You may want to discuss on the talk page before making major edits.
Bible use
Edit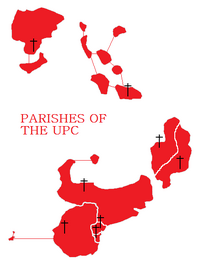 The United Protestant Church uses the Lovian Standard Version (published by Lovehouse Bibles) in church. However, the church has been looking for another , more mainstream Protestant translation to use in church. Until now, no such translation has been found. Zack Habermas, a young UPC pastor, explained why the church body didn't "just go for an American or British translation". He said: "Our church is an unseen phenomenon in North America; uniting Christians formerly scattered over denominations and churches of all kinds, and giving them a strong sense of being a Lovian Christian, the way our Lord would have wanted it. Therefore, we seek a translation that fits our special needs as a unique Lovian church."
See also
Edit
Ad blocker interference detected!
Wikia is a free-to-use site that makes money from advertising. We have a modified experience for viewers using ad blockers

Wikia is not accessible if you've made further modifications. Remove the custom ad blocker rule(s) and the page will load as expected.