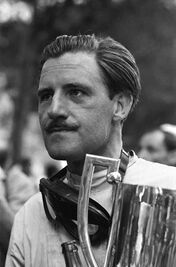 Umberto Rossi (born 1937, Positano) is a Lovian-Italian racecar driver and mechanic.
Biography
Edit
Rossi was born to a poor Italian family from Positano. His father was a soldier in the Italian army, and his mother worked in a munitions factory. The Rossi's came to Lovia in 1943 to avoid the war, but the elder Rossi was kept behind to fight. In the 1950s Umberto had become an accomplished mechanic for Atlantis Motors. When the Vickers Sprint Rally debuted in 1959, Atlantis had German racing legend Friedrich Koller racing in a brand-new 262 coupe. When Koller was injured and his car was totaled, Rossi was chosen as his replacement driver. Behind the wheel of his 4-year old stock 220 coupe, he led the Atlantis team to a miraculous 3rd place finish. By 1961 Rossi was the team's top driver, and he was given a better 1960 220 coupe. Driving for Atlantis, he won the rally in 1961, 1963, 1964 and 1966. He retired from racing in 1968 and was made Atlantis Racing's chief.
He married actress Andrea Graves (notable for her role in The Spy) and had one son, Luigi Rossi.
Ad blocker interference detected!
Wikia is a free-to-use site that makes money from advertising. We have a modified experience for viewers using ad blockers

Wikia is not accessible if you've made further modifications. Remove the custom ad blocker rule(s) and the page will load as expected.