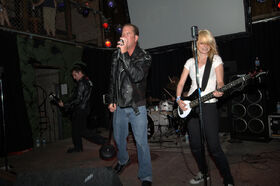 The Youngsters is a Lovian, Noble City-based rock music formation founded in late 2008 by Joshua Krüger, Channing Faure-Zobel and Sam Culligan. Joshua Krüger is the band's lead vocalist and Sam Culligan plays the bass guitar. Guitarist Faure-Zobel left the group in January 2009 and was replaced by Jeff Watisse.
The band's first hit was the dark rock ballad "The Easy Way Out", which featured on their debut album They Are Few.
Photo gallery
Edit
See also
Edit
Ad blocker interference detected!
Wikia is a free-to-use site that makes money from advertising. We have a modified experience for viewers using ad blockers

Wikia is not accessible if you've made further modifications. Remove the custom ad blocker rule(s) and the page will load as expected.