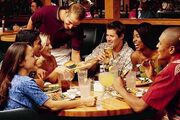 The Sun Palace is an Lovian bar-and-restaurant chain focusing on casual dining. The chain is recognized for its cheery, tropical theme and brightly-lit environments, regardless of the season or time of day.
The chain was founded by Orson Clemmings in 1969, a wealthy businessman who opened his first "Sun Palace Bar", an adult-based bar, in Adoha, in the hopes of being able to meet attractive females in the process. His plot was a success, as he would later marry a customer whom he had met on the restaurant's opening night. After the birth of his first child, however, Orson wanted his restaurant to be a more family-oriented place, so he renovated his bar to better suit families. His bar was now also a restaurant, and he renamed his joint "The Sun Palace".
In the following years, the highly acclaimed bar-and-restaurant would spawn a chain throughout Lovia. Even after the first Sun Palace was scrapped, and Orson's death, the chain would continue to grow in popularity. Today, each of "The Sun Palaces" are located in the malls and shopping centers of Lovia.
Good food and speedy service, a must for any family-

-Cinq Etoiles
Ad blocker interference detected!
Wikia is a free-to-use site that makes money from advertising. We have a modified experience for viewers using ad blockers

Wikia is not accessible if you've made further modifications. Remove the custom ad blocker rule(s) and the page will load as expected.