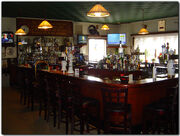 The Stumble-In is a Lovian bar located in Clave Rock, Sylvania. It is owned and operated by Matthew Anderson, a lifelong resident of the area. It was founded in early 2011 and has since proven to be a popular hangout for locals and visitors alike.
The Stumble-In has several TVs on which patrons can and do watch soccer and rugby matches.
Live music
Edit
The famed country and folk musician Sawyer Hillbilly has agreed to play weekly (on Friday nights) at the bar.
Future expansion
Edit
Matt plans to build on a viewing room in the back of the lot to serve as a movie theater once enough capital has been gathered.
A great place for sports fans. Charming setting and atmosphere, good music and drinks. It is quite new, so it still lacks the quality and reliability of established places. Nonetheless, it is still quite good.

-Cinq Etoiles
Ad blocker interference detected!
Wikia is a free-to-use site that makes money from advertising. We have a modified experience for viewers using ad blockers

Wikia is not accessible if you've made further modifications. Remove the custom ad blocker rule(s) and the page will load as expected.