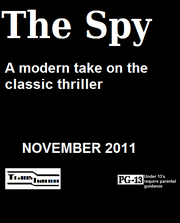 The Spy
is a 2011
Lovian
film based on the classic thriller,
The Spy
and produced by
Transbaum Films
.
Background
Edit
The 1963 box-office hit, The Spy, was a movie based on the life of supposed Lovian Secret Service operative Theodor Bergman. As far as facts show, his house was burned down, and he died in a suspicious car crash. In 2010, Transbaum Films wanted to make a remake of the movie, but in modern times.
Jim Bergman is an accountant by day- and a spy by night. He has done many missions for the Lovian Secret Service, the LSS. When his identity is compromised, he must either run for his life, or hunt down his enemies.
Ad blocker interference detected!
Wikia is a free-to-use site that makes money from advertising. We have a modified experience for viewers using ad blockers

Wikia is not accessible if you've made further modifications. Remove the custom ad blocker rule(s) and the page will load as expected.