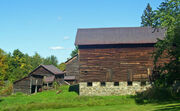 The Old Oceans' Farm is a very old farm on the border of Downtown Hurbanova. The Old Oceans' Farm was one of the first buildings to be built after the fire. The exact date is not known, but it should be somewhere in the 80s of the nineteenth century. Nowadays, it is the town's community center. Most youth go to this building on a daily base. Another function of the building until 2008 was housing the town's primary school. The parts of the building that used to house the primary school now house the local veterinarian.
Ad blocker interference detected!
Wikia is a free-to-use site that makes money from advertising. We have a modified experience for viewers using ad blockers

Wikia is not accessible if you've made further modifications. Remove the custom ad blocker rule(s) and the page will load as expected.