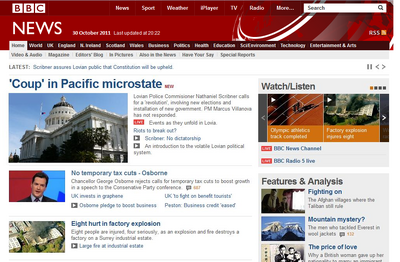 The October Coup was a power struggle between the legislative body, head of state and Commander of the Police force in the Lovian State. The event caught world attention and resulted in massive amounts of police movement early in the morning. Supporters announced their voice for new leadership, and Nathaniel Scribner appointed himself Prime Minister. He announced new elections for the head of state and agreed to step down from political office and his commanding post of Commander of The Police after the elections.
The chaos caused by the October Coup caused opportunistic rioting to break out in the north of Lovia, which later developed into the Lovian Civil War, in which I. G. La Blaca played a prominent role as well.
Ad blocker interference detected!
Wikia is a free-to-use site that makes money from advertising. We have a modified experience for viewers using ad blockers

Wikia is not accessible if you've made further modifications. Remove the custom ad blocker rule(s) and the page will load as expected.