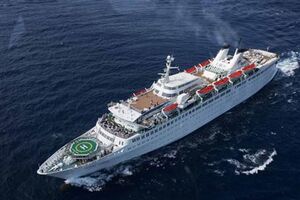 The Lovian Princess is a Lovian cruise ship of LoviLines.
Opening ceremony
Edit
The opening ceremony took place on the 10th June 2008 at Old Port. Present were the following citizens:
Current position and guests
Edit
The Lovian Princess is currently on a special cruise around Kings Island. The passengers are:
This page or article section is under construction.

You are welcome to assist in its construction by editing it. You may want to discuss on the talk page before making major edits.
See also
Edit
Ad blocker interference detected!
Wikia is a free-to-use site that makes money from advertising. We have a modified experience for viewers using ad blockers

Wikia is not accessible if you've made further modifications. Remove the custom ad blocker rule(s) and the page will load as expected.