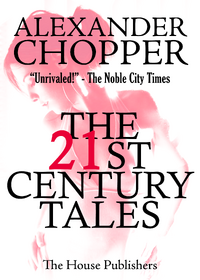 The 21st Century Tales is a Lovian 2010 book by Alexander Chopper, published January 10th by The House Publishers. The 21st Century Tales is conceived as a modern version of the late medieval masterly frame stories by Boccaccio (Il Decamerone) and Chaucer (The Canterbury Tales). Alexander Chopper's first novel is amazingly long for a debut and it is already considered one of Lovia's best novels.
Famously, the book took fifteen years to reach completion; the idea came to Chopper in 1995, a first draft being completed in 1997. Although he showed the manuscript to a few friends, he did not contact publishers because he feared it did not do justice to the original texts which inspired him. The work thus languished for several years, Chopper making only minor adjustments in his spare time, until a wealthy benefactor was given the manuscript and saw its potential. They agreed to pay Chopper a salary to work fulltime on it for three years, and in 2010 the almost completely rewritten novel was published.
Since the publication of the book, it has become widely known that Chopper's divorce of his wife Amandine Bath was the result of his commitment to the novel, which destroyed their relationship.
Although the identity of the person who funded Chopper is unknown, it is rumored to have been Prince Dimitri.
The Noble City Times wrote: "The Anglosaxon Americas haven't seen a literary work of this level for a long time – it is unrivaled and is a worthy successor to Geoffrey Chaucer's Tales. Its depiction of 21st century America and Lovia will characterize an entire generation and its literature."
External links
Edit
See also
Edit
Ad blocker interference detected!
Wikia is a free-to-use site that makes money from advertising. We have a modified experience for viewers using ad blockers

Wikia is not accessible if you've made further modifications. Remove the custom ad blocker rule(s) and the page will load as expected.