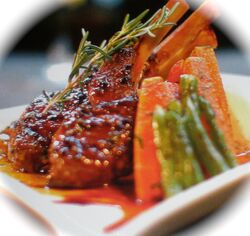 Taumatawhakatangihangakoauauotamateaurehaeaturi-pukakapikimaungahoronukupokaiwhenuakitanatahu Hut, commonly known as the T-hut or "that New Zealander restaurant with the really long name and juicy lamb chops" is a restaurant located at 1 History street, in Little Frisco. It was founded in 2008 by New Zealander chef Oliver Morton, who wanted to introduce "down-south" cooking to Lovia. The name is a Maori term used for a hill in New Zealand, but is rarely used within the restaurant (there is a plaque outside with the full name for visiting tourist to take a picture of).
Specialties
Edit
Some of the most popular items on the menu include:
Ad blocker interference detected!
Wikia is a free-to-use site that makes money from advertising. We have a modified experience for viewers using ad blockers

Wikia is not accessible if you've made further modifications. Remove the custom ad blocker rule(s) and the page will load as expected.