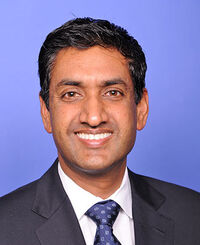 Surad Chand (born 28th March 1977, Lucknow, India) is an Indian-Lovian politician and economist. He is the leader of the Green Party since February 2017.
Biography
Edit
Chand was born in India, but his family moved to Lovia in 1980. They first lived in Noble City, but they soon moved to Beaverwick, and eventually gained Lovian citizenship.
Chand studied in the United States, first getting a bachelor's degree in economics and ethics at the University of Oregon, followed by a master's degree at the University of California, Berkeley. He briefly worked as an economist in San Francisco before moving back to Lovia. He held an administrative position at the Blackburn University, Newhaven from 2010 to 2013, before stepping down to join politics with the Green Party. In November that year, he was elected to the Kings State Council as one of the two members representing Beaverwick, alongside fellow GP member Elliott Nielsen.
On 12 February 2017, the Green Party's co-founder and leader Nicholas Sheraldin stepped down; the next day, Chand was appointed as the party's leader at a party meeting in Noble City.
Personal life
Edit
Though he is from a Hindu family, Chand himself is not religious. His wife is from an Arabic Muslim family from Thameen.
Ad blocker interference detected!
Wikia is a free-to-use site that makes money from advertising. We have a modified experience for viewers using ad blockers

Wikia is not accessible if you've made further modifications. Remove the custom ad blocker rule(s) and the page will load as expected.