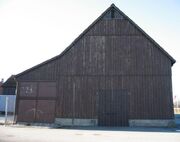 Supermarket Doshmat or simply Doshmat is a 120 year old supermarket building in Downtown Hurbanova. The building was built in 1884, right after the Hurbanova fire. The original building of 1881 was totally ruined. The supermarket still serves as a supermarket and is therefore the oldest supermarket of Lovia. It already has a 24-7 service since the late 70's and has not been closed since 1 January 1981.
In 1989, there was a robbery in the shop which was committed by two Russian criminals. One of the two was accused of triple murdered in Russia but was not condemned. Both were sent to Moscow and have recently been released by the prison.
Ad blocker interference detected!
Wikia is a free-to-use site that makes money from advertising. We have a modified experience for viewers using ad blockers

Wikia is not accessible if you've made further modifications. Remove the custom ad blocker rule(s) and the page will load as expected.