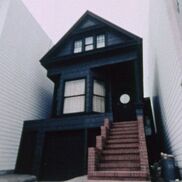 Studio HS
is the private recording studio of the band
Hop-Scotch
. It is located at 6 Place Florentine in the
Ferguson Beach Village
neighborhood of
Adoha
.
Background
Edit
Studio HS is located in a converted 1958-built 1900's-style home. The studio is accessed through a small anteroom. The main studio room is fitted with sound insulation and measured about sixty square feet. The basement of the studio is used to store old instruments and machines. The band never throws anything away, and uses the older equipment to recreate sounds.
The studio contains four SSL AWS 948 Delta consoles, and quad Westlake/601-style monitors. The PA equipment is self constructed and consists of plywood bass horns and cast aluminium mid range horns. Angeline Lilland, the granddaughter of the late Sofia Lilland, serves as an engineer for the studio and assists with new equipment purchases.
In 1981, Hop-Scotch recorded The Great Pretenders at the studio. The band purchased a Synclavier, a second-hand Polymoog, a Memorymoog, and a Moog Source to make the album sound more sleek and professional.
Ad blocker interference detected!
Wikia is a free-to-use site that makes money from advertising. We have a modified experience for viewers using ad blockers

Wikia is not accessible if you've made further modifications. Remove the custom ad blocker rule(s) and the page will load as expected.