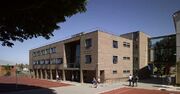 Stephen College is a small, private high school located in Charleston which is owned and operated by Charleston Educational Trust. It offers both vocational and academic courses for children between the ages of 16-18, many of which come straight from the college's sister institution, Castillo School. There is also a small adult education centre at the school.
Its name is derived from the Stephen Headland on which it is located.
The school was founded in 2013, as the second institution of the Charleston Educational Trust. It is the sister institution of Castillo School.
Modern day
Edit
The school consists of the following buildings
Castillo Building- Biggest building of the school where most academic teaching takes place.
Bridge Building- Second biggest building of the school, where vocational and artistic teaching take place.
Charleston Leisure Center- A small leisure center, which is also open to the public. Facilities include a basketball court, gym and swimming pool.
Secondary education
Edit
Most students at the school are enrolled in the secondary education programmes. The secondary education curriculum is designed to prepare students for entry to university, or the world of work. It is also designed to give students maximum flexibility about the subjects that they study.
The secondary education programme lasts two years (16-18). Students must study English and Citizenship, as well as four subjects from a wide range of options, including Maths, Literature, Sciences, Humanities, Languages, Arts and Vocational Subjects.
Adult education
Edit
The school also offers several adult education programmes in a variety of subjects including Languages, Arts and Vocational Subjects
Senior leadership team
Edit
Chair of Governors- Janet Ross
Principal- Kevin Lewis
Head of Adult Education- Guy Wiltford
Ad blocker interference detected!
Wikia is a free-to-use site that makes money from advertising. We have a modified experience for viewers using ad blockers

Wikia is not accessible if you've made further modifications. Remove the custom ad blocker rule(s) and the page will load as expected.