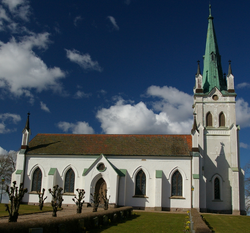 St. Stephen's Church is a Roman Catholic church located in St. Stephens, Kinley. The current priest is Alfred Young.
Seven's first inhabitants were Scandinavian immigrants who built a Lutheran church in the region in 1878. It remained in use until 1906, when it was abandoned, due to a dwindling number of Lutherans and migration away from the nearby farms to Kinley and the south of Lovia. After around 15 years of disuse, it had become almost ruined; part of the roof had caved in and doors were removed by locals for use as firewood, and the state government began a debate over whether to demolish the remains. However, the Roman Catholic community in Kinley had been growing significantly and in 1922 Ronald Thumbsup, then priest of the Church of the Sacred Heart, submitted an offer to the government to purchase the church, which succeeded, and reconstruction began the next year. By late 1923, the first priest, Martin Anderson, was installed, and the church was renamed St. Stephen's Church. Anderson was known for his strict liturgy, and in his retirement supported the establishment of the Societas Sanctae Crucis. A statue of Anderson was erected in the early fifties in St. Stephen's Park.
The church became a focal point for a new community to spring up near Kinley; during the 1956 famine, however, many parishioners were forced to flee to the south or the US. During this time it gained a reputation for serving those on low incomes in the Kinley area, and after the famine helped fund a program to convert abandoned buildings into affordable housing.
Priest Gregory LeBar became notorious as an exorcist.
Up until the 1980s, the church was responsible for administering the St. Stephens Primary School and Bishop Thumbsup Secondary School; due to a more secularist atmosphere developing, the state government took over responsibility for the schools in 1981.
Today, the church has has a congregation of around 300.
List of priests
Edit
Martin Anderson (1923-1929)
George Clements (1929-1931)
Harald Ellis (1931-1954)
Gregory LeBar (1954-1963)
Larry Ryan (1963-1970)
James Fromfield (1970-1972)
John Mark Kerr (1972-1979)
Henry Baroni (1979-1991)
John Kekumano (1991-1996)
Stanley Vavrina (1996-2010)
Alfred Young (2010-present)
Ad blocker interference detected!
Wikia is a free-to-use site that makes money from advertising. We have a modified experience for viewers using ad blockers

Wikia is not accessible if you've made further modifications. Remove the custom ad blocker rule(s) and the page will load as expected.