This page or article section is under construction.

You are welcome to assist in its construction by editing it. You may want to discuss on the talk page before making major edits.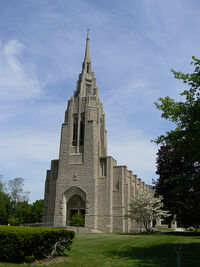 St. Charles Church is a Roman Catholic church and the oldest and principal church in Charleston. It was built from 1931-1934 in an art deco style. It has become a tourist site in the town, with many coming to admire the architecture as there are very few art deco buildings in Lovia.
Ad blocker interference detected!
Wikia is a free-to-use site that makes money from advertising. We have a modified experience for viewers using ad blockers

Wikia is not accessible if you've made further modifications. Remove the custom ad blocker rule(s) and the page will load as expected.