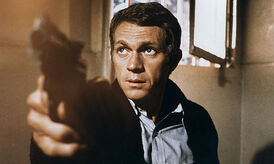 Simon McCann (born 1931) is a famous Lovian-American actor. He is noted for having leading roles in the movie The Spy, Jailbreak and the hit TV series Bulletman.
McCann was born to Irish-American parents in Boston, USA, who came to Lovia in the mid 1930s. He began his acting career in the 1950s with a minor role in El Matador. With the success of The Spy at the box office, he was hired to play Bulletman and became a mainstream actor. In 1967 he married actress Andrea Graves and had one daughter, Elizabeth McCann (1967), who herself is an actress.
Filmography
Edit
Ad blocker interference detected!
Wikia is a free-to-use site that makes money from advertising. We have a modified experience for viewers using ad blockers

Wikia is not accessible if you've made further modifications. Remove the custom ad blocker rule(s) and the page will load as expected.