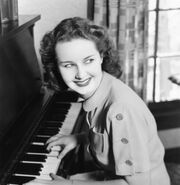 Silvija Ilava (1936-1970) was a Lovian pianist in the 1950s and 1960s. She was born to Zledin Ilava and Anica Ský in Hurbanova. She was the sister to Asht Ilava. She moved to Noble City and began taking piano lessons there. She played in many hotels, namely the Olympia Hotel and Theater. There she met Joseph Ramsley and they were married in 1963. They had a son, Michal Ilava-Ramsley and a daughter, Rosa Ilava-Ramsley. Silvija died in 1970 in a car accident and her husband took care of their kids.
This article is a stub: a short article with a useful amount of information, but that should definitely be expanded.
You can help Wikination by expanding it.
Ad blocker interference detected!
Wikia is a free-to-use site that makes money from advertising. We have a modified experience for viewers using ad blockers

Wikia is not accessible if you've made further modifications. Remove the custom ad blocker rule(s) and the page will load as expected.