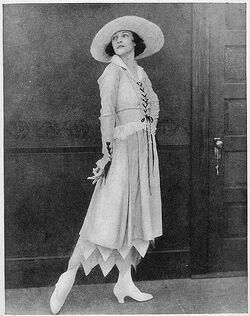 Silvia Coningham (1883-1979) was a prominent Lovian socialite and heiress of a large real estate business.
Biography
Edit
Silvia was born in Coningham House (near Kinley) to Sir George Coningham (1848-1911) and Mariette Eisenhower (1862-1957). She was the grandaughter of founding father George Eisenhower. She married Andrew Frederick Ramsley in 1902. She had 2 sons, Albert Arthur Ramsley and Stanley Ramsley and 3 daughters, Isabel Ramsley, Manon Ramsley and Bara Ramsley. In 1916 her husband died in France and she became a widow (for 64 years). She died in 1979 at the age of 96, inheriting an Eisenhower trait of longevity (her mother lived to 96 and her grandfather to 100.
Ad blocker interference detected!
Wikia is a free-to-use site that makes money from advertising. We have a modified experience for viewers using ad blockers

Wikia is not accessible if you've made further modifications. Remove the custom ad blocker rule(s) and the page will load as expected.