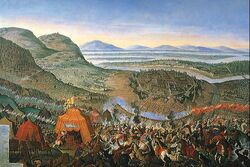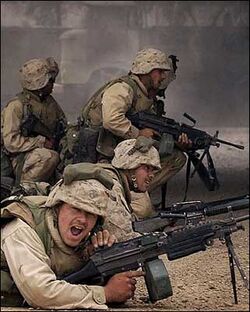 The Siege of Train Village was an important battle of Lovian Civil War, and took place between the 27th and 28th of November.
Background
Edit
Oslobodenia forces conquered Hurbanova from the local government and rapidly expanded towards Sylvania on 27 October. Rebels from Stephen Headland, who claim to be pro-Lovian forces, took over the power from Lovian government in Stephen Headlads and Train Village Plains, in order to secure this region from Il Duce Octavian's expansion. On 27 October, forces from both sides, Oslobodenia and the Southern Cross Movement, met each other at Train Village.
Battlefield
Edit
27th October
Edit
Currently, the defendants (~250 men) are in serious danger of being outnumbered and encircled. Oslobodenia has three divisions. 1st Division (200 men) led by Il Duce Octavian launched its assault on Train Village at 8:00 PM. General Ilava's regiment, 2nd Division (350 men), firstly occupied Clave Rock, which took longer than expected, and arrived at the ports of Train Village at 9:30 PM. Oslobodenia's 3rd Division (400 men) is expected to join the assault in the afternoon, attacking from the north east.
Southern Cross Movements have to defend the town of Train Village from assaults in the west and the south.
James Torres sents the Special Forces of Lovia (3 squadrons of 180 men) to assist the defendants.
In a speech from his palace in King's Gardens, Noble City, Il Duce Octavian says that "Train Village must be wiped from the map". He gathers new militia to fight the war. The Brigade, recovered from the initial loss, is prepared to go to the battlefield.
28th October
Edit
Fighting continues, until the news comes to the rebels that Noble City is about to be lost to anti-rebel forces. The Oslobodenian forces end the siege and retreat to assist their allies, ending the siege.
Ad blocker interference detected!
Wikia is a free-to-use site that makes money from advertising. We have a modified experience for viewers using ad blockers

Wikia is not accessible if you've made further modifications. Remove the custom ad blocker rule(s) and the page will load as expected.