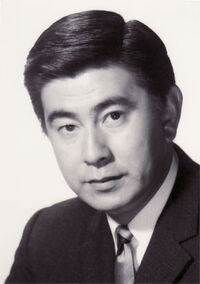 Shinobu Kenshi (1901-1958) was a Japanese-Lovian mobster and businessman.
Biography
Edit
Kenshi was born in San Francisco to a Japanese fishmonger and his wife. He came to Lovia after a run-in with the law in the 1920s (he would have been sentenced to 4 years in prison). In 1929 he worked for Fukuyama Imports and Exports, a firm that would be known for illegally importing Canadian liquor and selling it at exorbitant prices to Lovians, or selling it to American mobsters. When Mr. Fukuyama was arrested in 1934, Kenshi succeeded him as the head of his crime empire. When the Noble City Police began a case to arrest him and shut down his operations, he had the police chief and his deputy killed, an event which shocked many Lovians. After prohibition ended in the US and Lovia, he began to import liquor illegally, in order to avoid government controls and high taxes. Suspected ties with Yakuza and the Japanese during WWII led to his arrest in 1942 and a large trial which saw him convicted on 5 counts of murder, extortion, smugling, and tax fraud of over US$ 1,000,000. Sentenced to 15 years in prison, he was released after 10. Kenshi died in 1958.
Ad blocker interference detected!
Wikia is a free-to-use site that makes money from advertising. We have a modified experience for viewers using ad blockers

Wikia is not accessible if you've made further modifications. Remove the custom ad blocker rule(s) and the page will load as expected.