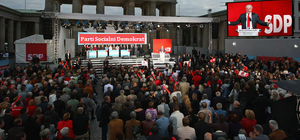 Sakalír Kelmný (born 1947, Drake Town) is a Lovian politician who was a major advocate of Social Democracy. He is a member of United Left.
Kelmný was born in Drake Town as a 3rd-generation Hurbanovan. He studied at Nobel University in the 1960s, but was really discontent with the system. Coming from a mining family, he constantly protested in favor of workers (and miners, in Oceana) unions, and formed part of the worldwide student protests of 1968. He married teacher Wilma Radek in 1976, and had two children, Michael and Anna. In 1999, he joined the Lovian Democratic Party and that year he became the Mayor of Hurbanova, holding office until 2001. He was elected into the 2005 Congress, the 2006 Congress and the 2007 Congress. In 2011, the LDP merged with LU to create the Liberal Democratic Party, which Kelmný strongly opposed. He left the LDP and joined the Social Democratic Party later on, as the head of advertising campaigns. After a period with Labour and SCP, he joined United Left.
Kelmný decided to retire from congress in early 2015, to spend more time with his grandchildren.
Political views
Edit
Kelmný was a strong proponent of Oceana nationalism, but has not joined one of the major Oceana parties. In the 1970s he campaigned for greater autonomy and self-rule, but saw little achieved. He supports a strong state government with more powers, in order to better help the citizens.