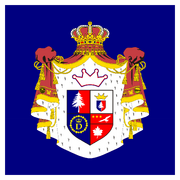 In Lovia, the ruling monarch is the King or Queen in reign. Article 1 B of the Constitution defines the ruling monarch as "the person who legally inherited the throne from the previous ruling monarch. He or she is thus a descendant of the first Lovian monarch, King Arthur I of Lovia (Arthur Noble)." (Article 1 B.1) The ruling monarch is a Member of the Congress by Right.
The current ruling monarch of Lovia is King Sebastian I of Lovia.
The person married or engaged to the ruling monarch is referred to as the "the partner of the ruling monarch" in the Constitution. He or she can be called "king" or "queen" as well, but is never considered to be equal to the ruling monarch.
List of ruling monarchs
Edit
Main article: Royal family of Lovia#List of kings and queens.
See also
Edit