Royal family of Lovia
Talk

36
2,862pages on
this wiki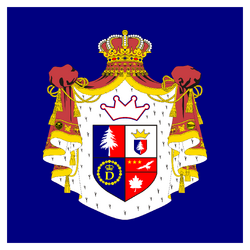 The royal family of Lovia has ruled The Kingdom of Lovia since 1875, except during a short-lived republican period from August 2008 until November 2009. This article includes lists of all kings and queens and their pictures. The current ruling monarch is HRH King Dimitri I of Lovia, married to Queen Mary Elisabeth.
List of Kings and Queens of Lovia
Edit
| | | |
| --- | --- | --- |
| | This section is under construction. | |
Portrait
Name
Ruling monarch from
Ruling monarch until
Relationship with predecessor(s)
King Arthur I (1849-1887)
1876
February 2, 1887
King Arthur II (1875-1938)
February 2, 1887
October, 5 1938
Son of Arthur I
Queen Lucy I (1894-1953)
October 5, 1938
1953
Daughter of Arthur II
King Lucas I (1912-1985)
1953
1956
Son of Lucy I
King Arthur III (1913-2007)
1957
2007
Brother of Lucas I
King Dimitri I (born 1991)
November 2007
November 2009
August 2008
Present
Nephew of Arthur III
Timeline
Edit
Family tree of the royal family
Edit
Note: * Living people
Succession to the throne
Edit
Main article: Line of succession to the Lovian throne.
The symbol of the Lovian royal family is a simple white crown. It's on lots of seals and flags, including the Royal Standard, which is the official standard of the ruling monarch.
Protocol
Edit
The monarch usually is addressed as His Royal Highness, His Majesty, Dimitri I, King of Lovia, Sire or Sir. Politeness is regarded necessary when talking to the King, Queen or another member of the royal family.
See also
Edit