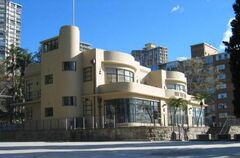 Restaurant Phoenix is a restaurant in Noble City, Bayside. The restaurant serves national and international products, also traditional dishes from Libertas and Adlibita.
Restaurant Phoenix owns another restaurant which is located in Libertas. The first and original restaurant was established in Wikistad, Villa district, on June 2, 2007.
Libertan specialities
Edit
Poularde de Bresse Lovian style served with "gratin dauphinois" and savoy cabbage
(poularde stuffed with gound meat, mushrooms and brandy)
Adlibitan specialities
Edit
International cuisine
Edit

Poularde de Bresse

The Bresse (French Poulet de Bresse) is a breed of chicken originating from the Bresse area of the Rhone-Alpes region of France. The birds are highly valued for their rich, gamey depth of flavour, yet with fine, tender flesh and delicious, clean-flowing fat. Roughly 1.2 million are raised annually, but such is the demand inside France that few birds make it out of the country. As a premium product, they sell at a premium price: Poulet de Bresse command around 10 euro ($15) per kilo at fine food markets.
The poularde de Bresse being served at Restaurant Phoenix comes from a Lovian farm, delivering the dairy products to the restaurant.
References
Edit
Extremely delicious food and great wine choice. The wait is terribly long, but certainly worth it.

-Cinq Etoiles

Red Dot Award, 2006
This article is a stub: a short article with a useful amount of information, but that should definitely be expanded.
You can help Wikination by expanding it.