RIAL (Royal International Air Lines) was a Lovian-Brunanter airline operating from 1961 to 1980. RIAL was headquartered at Van Draak International Airport and in Noble City (in the RIAL Building).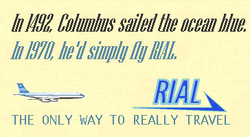 Rial was founded in 1961 as a joint Lovian-Brunanter company to provide a rapid and easy link between Koningstad and Noble City. Service began in October 1961 using Douglas DC-6 airplanes. The route served was Brunant to Lovia (and vice-versa), flying fromVan Draak International Airport direct to Gander, Newfoundland, from then on to New York City and then nonstop to Noble City. RIAL had a fleet of five DC-6 planes, later joined by four DC-7s in 1963. In 1965 RIAL acquired two Boeing 707 jets, inaugurating it's first jet-powered Brunant to Lovia service in February 1966.
RIAL routes were later expanded to a New York-Los Angeles on the Brunant-Lovia link, as well as a flight from Brunant to London. In 1975 RIAL became the first Brunanter airline to offer service to Moscow, via London.
RIAL suffered with the oil crisis in 1973, as well as that in 1979 (primarily in their North American operations). Profits decreased significantly, also due to increased competition. RIAL planes last flew to Noble City in April 1980, after which they were grounded. The company declared bankruptcy in June 1980 and folded.
Ad blocker interference detected!
Wikia is a free-to-use site that makes money from advertising. We have a modified experience for viewers using ad blockers

Wikia is not accessible if you've made further modifications. Remove the custom ad blocker rule(s) and the page will load as expected.