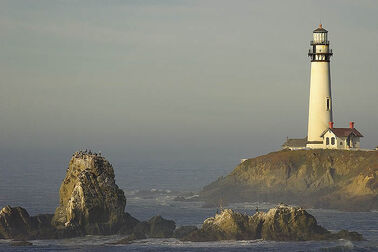 The
Queen Lucy Lighthouse
is the lighthouse of the village of 
Beaverwick
. It was built near 1950 to serve as a lighthouse for the small town. Originally named the Beaverwick Lighthouse, its name was changed as a result of the popularity of its nickname, "Queen Lucy's Lighthouse." For many years, it has guided boats to the safety of Beaverwick, which is encircled with many dangerous rocks.
Renovation Projects
Edit
Because of the age of the lighthouse, the Queen Lucy Lighthouse has been renovated many times during its existance. The first of such projects was in 1980, and since then it has been reinforced every ten years, the only exception being in the year of 1991, when a large storm brought winds of such force that many of the windows were broken, and caused the roof to partially collapse.
The "Twin Lighthouse"
Edit
Many claim that the Queen Lucy Lighthouse is a haunted lighthouse. This story became popular after a small boat, the ship The Pacific Skipper rammed into large rocks off the coast of Beaverwick. Although nobody died in the accident, the captain claimed that he was heading straight for the lighthouse. Many residents in the area believed that this was proof that the lighthouse had a ghostly twin, which only appeared on certain dates. However, this phenomena is generally explained to be a result of the captain being off-track, or that the light source was one other than that of a lighthouse.
Ad blocker interference detected!
Wikia is a free-to-use site that makes money from advertising. We have a modified experience for viewers using ad blockers

Wikia is not accessible if you've made further modifications. Remove the custom ad blocker rule(s) and the page will load as expected.