Queen Lindsay of Brunant, born Lindsay Mansell, (Noble City, 10 June, 1982) is the Brunanter Queen. She was a well-known and popular Lovian photo and fashion model, as well as an actress. She is married to king Anthony of Brunant.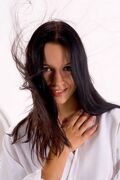 Lindsay was born in Noble City as the first daughter of two Lovian investors, but she has lived most of her entire life in Sofasi. Her personal brand is her eyes, that are darkbrown. Lindsay Mansell is active in the photography business since she turned 15. She received an order of an recognized Lovian photo bureau, Westling Photo, where she was a model until 2011. Lindsay has one sister that's also a fashion model, Cheryll Mansell. She is very close with her.
In 2006 it became known that Mansell was dating Crown Prince Anthony, and this caused a scandal among Brunant's conservatives. They had an on-and-off relationship, but in 2010, she moved into Grijzestad Palace with him. That year the Prince has proposed to her and they married on April 15, 2011. In August that year it was announced that she had become pregnant. In 2011 when king Marten II died, she and her husband became the monarchs. On April 13 Lindsay gave birth to a baby boy, Prince Nicholas.
Lindsay is good friends with the Sofasian actress Elly Buick, she also starred in the 2008 film production The Lovely.
See also
Edit