The content of this page or article is disputed.


Avoid adding or removing disputed content. Please discuss civilly on the page's talk page.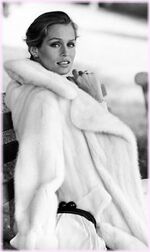 Princess Helena of Lovia (born 7 June 1969) is a Lovian princess. She is the daughter of Prince George of Lovia and Maria of Torretasso, an Italian-Brunanter.
Princess Helena of Lovia was born in 1969 to Prince George of Lovia and Princess Maria. She was an only child. Young Helena grew to become very beautiful, attracting the attention of many suitors, even from Russia. The princess had a plethora of romances, and eventually married Anthony Mortensen.
She has had two children with him, Josephine Mortensen and Albert Mortensen. Since Helena's maternal grandmother was a daughter of King Pieter II of Brunant, the princess is 65th in the line of succession of Brunant, though in the Line of succession to the Lovian throne she ranks higher up, at sixth.
Her daughter Josephine was one of the bridesmaids at the wedding of then Princess Helene and Bernd Donia.
Ad blocker interference detected!
Wikia is a free-to-use site that makes money from advertising. We have a modified experience for viewers using ad blockers

Wikia is not accessible if you've made further modifications. Remove the custom ad blocker rule(s) and the page will load as expected.