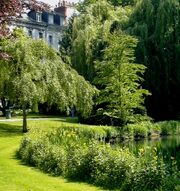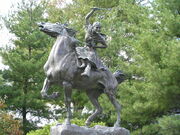 Prince's Park is a small urban park in the Old Harbor of Noble City. When the Hill Park in the Old Harbor was renamed Princess' Park in 1894, Prince's Park was established two blocks down. It's bounded by Marine Avenue and the Sebastian Street. Because of its location at this street, the park is often linked to Prince Sebastian, the elder brother of Princess Elisabeth.
In fact, it is a rather small and flat park, unlike the Princess' Park. It is known to be a popular soccer location for the youth.
Luke Graham's sculpture Sybil LeGrand is located in this park.
See also
Edit
Ad blocker interference detected!
Wikia is a free-to-use site that makes money from advertising. We have a modified experience for viewers using ad blockers

Wikia is not accessible if you've made further modifications. Remove the custom ad blocker rule(s) and the page will load as expected.