"
When you have faults, do not fear to abandon them.
"
Philosopher's Island is one of the seven islands of the State of Seven and the Central Nation Archipelago. The island is named after the philosophers who stayed here regularly. The island has only one large settlement on it, the village of Novosevensk.
Geography
Edit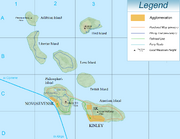 The island is the second largest in Seven, and also the most hilly; the highest point in Seven,
Confucius Hill
, is located here. The island also has a lake (
the Tarn
), out of which flows a small stream named the
Rekachka
. Because of the attractive landscape and challenging terrain, the island is popular with walkers.
Monument for Lovian philosophers
Edit
On the northern tip of the island, a small memorial plaque for contemporary Lovian thinkers is erected the second of September 2008. That same day the first two names were engraved on the plaque, being Lars Washington and Yuri Medvedev. More philosophers and wise men can be added by any person.
Ad blocker interference detected!
Wikia is a free-to-use site that makes money from advertising. We have a modified experience for viewers using ad blockers

Wikia is not accessible if you've made further modifications. Remove the custom ad blocker rule(s) and the page will load as expected.