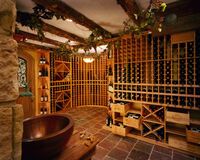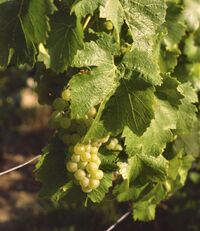 The Wine Cellar of Palati Daidalo is rather large and contains lots of great wines, from all over the world. Despite the palace being destroyed by fire, the cellar has survived.
Wines in the cellar
Edit
12 bottles of Echelon 2009, a Chardonnay from the Echelon Vineyards in Sans Louis Obispo, an anonymous gift
12 bottles of Merryvale 2008, a Sauvignon Blanc from the Merryvale Vineyards in St. Helena, California, an anonymous gift
Purchases
Edit
96 bottles of Cuvée Brut, a Champagne (Pinot Noir, Pinot Meunier, Chardonnay), from Piper Heidsick in Reims, France
96 bottles of Nathanson Creek 2007, a Chardonnay from the Turner Road Winery in Woodbridge and Madera, California
36 bottles of Vintage 2009, a Cabernet Sauvignon from the Monticello Vineyards in Napa Valley, California
36 bottles of Deerfield 2011, a Sauvignon Blanc from the Peterson Vineyard in Sonoma Valley, California
36 bottles of Cuvée Abbaye 2009, a Sémillon-Muscadelle (Monbazillac) from the Domaine de l'Ancienne Cure, Monbazillac, France
24 bottles of Deerfield Red Rex 2009, a Cabernet (and Merlot, Syrah, Petit Verdot, Sangiovese, Cabernet Franc, Zinfandel) from Sonoma Valley, California
See also
Edit
Ad blocker interference detected!
Wikia is a free-to-use site that makes money from advertising. We have a modified experience for viewers using ad blockers

Wikia is not accessible if you've made further modifications. Remove the custom ad blocker rule(s) and the page will load as expected.