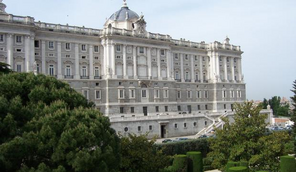 The Palace Grand is a casino-resort located in Adoha.
Construction
Edit
The hotel began construction in 2010 as a family-oriented resort. It was originally built by Landmark Group, but they sold the unfinished property in early 2011. Through funding by James Torres and others with shady business connections, much of the framework was removed and rebuilt to be a near-identical replica of the Old Royal Palace.
Amenities
Edit
The hotel is mainly centered around its casino, one of the largest in the country. It has many gambling tables for poker, keno, baccarat and other games.
Guide Hôtelier Cinq Etoiles gives this hotel

. Good service, but way too tourist oriented and expensive ($250 per night is not worth it).
Ad blocker interference detected!
Wikia is a free-to-use site that makes money from advertising. We have a modified experience for viewers using ad blockers

Wikia is not accessible if you've made further modifications. Remove the custom ad blocker rule(s) and the page will load as expected.