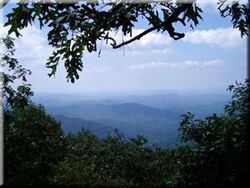 Painters Hill is a forested hill in the east of Noble City, in Artista. It's one of the higher locations in Noble City offering a magnificant view on Artista and surroundings. That is why it's called Painters Hill; all the Artistan painters would come and stand on this hill to get a clear and awe-inspiring view of the area.
During summer, when morning breaks and mist is covering the area, the scenery is really out of this world.
The hill is bordered by allotments for sale in the east and south. In the northern corner, lots are still under construction. In the west, Highway 1 and the Peace Island Railway pass Noble City.
See also
Edit
Ad blocker interference detected!
Wikia is a free-to-use site that makes money from advertising. We have a modified experience for viewers using ad blockers

Wikia is not accessible if you've made further modifications. Remove the custom ad blocker rule(s) and the page will load as expected.