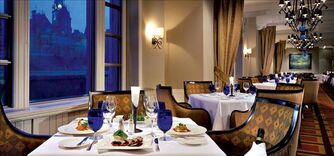 Oxygen
is a restaurant located in
New Town
,
Lovia
. The adress is 7 Cavour Avenue.
It serves Iberian food from Spain and Portugal. But, the food is made in a modern style with exotic ingredients. The chef and owner is Julio Torres who found it in 2007. It is a 3 star rated restaurant.
The completed 6 course's meal is $130 and a 4 course's one (entree, main course, salad and desert) is $85. But customers may order separately the dishes.
Entrées
Gazpacho 10
Salmorejo 12
Marmita 12
Relevés
Bacalhau à Gomes de Sá 30
Bacalhau com Piri-piri 33
Pescaito frito 28
Calamares a la romana 30
Main Course
Migas manchegas 40
Carne de Porco à Alentejana 55
Feijoada and chouriço 45
Lechazo de Castilla y Leon 50
Paella valenciana 42
Salad
Berenjena con Vinagreta de Tomate 15
Ensalada de Pasta 12
Ensalada de Naranja y Aguacate 15
Salpicon de Marisco 18
Cheese's and wine 20
Selecion of Spanish portuguese and French cheese's, Red wine and Vinho verde
Desserts 10
Bola de Berlim
Crema catalana
Barriga de freira
Tarta de Santiago
The food is pricey, but the portions are very generous and the flavor is magnificent.

-Cinq Etoiles
Ad blocker interference detected!
Wikia is a free-to-use site that makes money from advertising. We have a modified experience for viewers using ad blockers

Wikia is not accessible if you've made further modifications. Remove the custom ad blocker rule(s) and the page will load as expected.