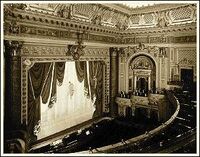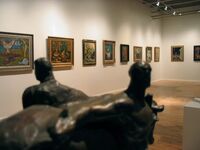 The Olympia Hotel and Theater is an historic Lovian hotel built in 1890 in King's Gardens, Noble City, founded by Sir George Coningham as part of his real estate business in Lovia. His daughter Silvia inherited the hotel in 1909. In 1941, she added a theater to the Olympia. The theater is famous for being the site of the premiere of Sheba and Solomon in 1947 and helping Florentine Fortesque achieve her fame and glory.
Connected to the hotel is a small art gallery, known as the Olympia Gallery.
The hotel is still in use today. It is owned and managed by Landmark Group. There are 104 rooms, 17 suites and 2 master suites. The hotel is famous for receiving many foreign dignitaries. The hotel is an important and historic part of King's Gardens.
Famous visitors include US President Woodrow Wilson (1921), King George VI of the United Kingdom (1939), actress Florentine Fortesque (1947), French President Charles de Gaulle (1946), and rock star Elvis Presley (1956).
The hotel was also the site of a shooting attempt during the premiere of the film Intrepid.
The theater is composed of two rooms: one cinema and one actor's theater. Some of the famous movies shown at the Olympia include:
The Olympia Gallery
Edit
The Olympia Gallery is a small art museum located on the first floor of the hotel. It houses several paintings, among them a Van Gogh. The gallery is free to hotel guests, and is open to the public at a charge.
Photo gallery
Edit
Guide Hôtelier Cinq Etoiles gives this hotel

for unrivaled excellence, quality and attention to all customers' whims. Truly merits its 5 stars.

Grand Prix du Mérite, 2010
See also
Edit
Noble City articles: navigation