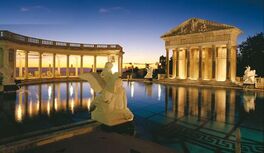 The
Olympia Casino
is an Ancient-Greece themed casino in
Adoha
,
Clymene
. It was built in 2010 and finished in 2011.
Construction
Edit
In 2010, work began on the casino as part of Secretary of Tourism Justin Abrahams' plan to make Adoha "new again". An ancient Greek style was chosen for the casino and work began on it. Libertan architect Karl Hitzlsperger, who adores ancient architecture, was appointed as the architect. The pond located by the casino was made into greek style, and statues and other constructions made it look like a Greek temple. On March 10, the casino was completed and a grand opening will be held on April 1.
Ad blocker interference detected!
Wikia is a free-to-use site that makes money from advertising. We have a modified experience for viewers using ad blockers

Wikia is not accessible if you've made further modifications. Remove the custom ad blocker rule(s) and the page will load as expected.