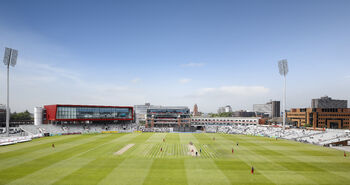 The Old Cricket Field is a cricket ground in Bayfield, Portland in Kings. Built in 1952, it is the oldest and largest cricket field in Lovia. The stadium was constructed for the Portland Cricket Club, which was at the time the best-known and best-performing Lovian cricket club. The Portland Cricket Club continued to use the stadium until 1981, when they dissolved due to financial problems. The Old Cricket Field lay more-or-less unused until 1999, when it was adopted by the newly founded Portland New Cricket Club, a successor of the original Portland Cricket Club. Since 2000, the Old Cricket Field has been one of the stadia in the Lovia Cricket League, as the home stadium of one of its clubs. It is also one of the grounds frequently used by the Lovia national cricket team, which was founded in 2014.
The Old Cricket Field has a capacity of 10,000 spectators, which was the largest capacity of any cricket ground in Lovia during the time of the Portland Cricket Club, but has since been superseded by some other grounds, such as the River Oval in Noble City.
Notable events
Edit
In 1982, the Superfest musical festival was held at the ground. Tickets were $20 ($25 at the gate), and 25,000 people in total attended. The event was sponsored by Istanbul Soda, Seaman's Ale, and Kentucky Fried Chicken.
Ad blocker interference detected!
Wikia is a free-to-use site that makes money from advertising. We have a modified experience for viewers using ad blockers

Wikia is not accessible if you've made further modifications. Remove the custom ad blocker rule(s) and the page will load as expected.